Mon, Mar 22
---
I HAVE CROSSED A FRONTIER
@ 9:03 AM
A young fan named Joshua Levesque wrote me last year, saying he wanted to get a tattoo of my George Lucas bit. I tried to dissuade him -- getting permanent ink of one of my jokes is like tattooing the lyrics to "Barbie Girl" on your face. But, like Parker in THE HUNTER or Marv in SIN CITY, the man would not be stopped. So I asked Ivan Brunetti to design a tattoo. He did. Joshua etched it onto his skin. Here it is: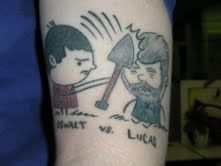 Posted by: kyle @ 11:34 PM on 3.23.2010
It was between the oswalt vs. lucas joke or the man shaving his sack in the whirlpool bath.


Posted by: matt @ 2:47 AM on 3.25.2010
Man, what a Rubicon this is Patton. What other proud moments in your life can you look forward to? A shrine on the wall of a truck stop restroom? A line in a Weird Al parody? Shh, let us whisper of dream.


Posted by: Michael Julius Wiley @ 5:51 PM on 3.25.2010
Patton Motherfucking Oswalt.

Your last name shows up on spellcheck.

So does spellcheck.

That's odd.

The tattoo is too.


Posted by: Jonathan the Bellboy @ 10:32 PM on 3.25.2010
Next: The Dan Clowes illo that I used to see in Meltdown.


Posted by: Ookmongani (Dave in english) @ 11:26 PM on 3.25.2010
Mr Oswald. I didn't know how else to reach you... My bartender Joe at Mulligans in Boise Idaho LOOKS JUST LIKE YOU (but taller). You need to come to BOISE and play the Hy-jinx or The Egyptian. You say the word and I'll set it up, including introductions to your body-double(?)Joe. Love your work, Thought you were brilliant in Super Smoke Me with Doug Benson. Tell him to come back to Boise too if you see him in fact get Dave Attell to come along as well he knows how fun and freaky this town can get in the winter. And if you know Zack Galifianakis tell that freak to stay the fuck in San Fransisco with all the other sickos. Just kidding bring him along too, I think hes funny as all hell.


Posted by: Ookmongani @ 11:32 PM on 3.25.2010
how messed up is that I misspell your name but I got Zack's right. My sincerest apologizes Mr. Oswalt (fukn spel cheek)


Posted by: Autumn @ 6:22 PM on 3.29.2010
That is the best comedy tattoo I have ever seen.


Posted by: Sean @ 9:51 PM on 3.29.2010
Nope....I have Carlins 7 words on my inner thigh


Posted by: Merk @ 4:59 PM on 3.31.2010
I just saw you shoot Kenny Rogers!!!! GOD BLESS YOU!!!!!!!!!!!!!!!!!!


Posted by: product of incest @ 8:23 AM on 4.01.2010
Big fan, Magnolia, Observe and Report - is there a movie you're in where you don't get the shit kicked out of you?


Posted by: Nathan @ 8:42 PM on 4.01.2010
Getting laid is overrated anyway.


Posted by: Ryan @ 7:40 PM on 4.04.2010
My band's new van has been christened "Uncle Touchy's Naked Puzzle Van." Get stoked.


Posted by: precenphix @ 12:07 PM on 4.07.2010
Loved your set at the Keswick in Glenside this past year. Thanks for the autograph.

Now on to more pressing issues...have you been made aware of this yet?

http://www.msnbc.msn.com/id/36179954/ns/business-consumer_news/

Just when you thought it couldn't possibly get any worse, KFC introduces the "Double Down". Lower in calories or not, this bit basically writes itself.

I pass the pen to you, my good man...


Posted by: sorry @ 11:11 AM on 4.08.2010
Sorry.

Stick with me as this is tangentially related. I recently read your 24 Hours: Patton Oswalt microinterview (http://www.maxim.com/humor/stupid-fun/84729/24-hours-patton-oswalt.html) in Maxim.

Sorry.

I grew up in Staunton, VA and was horrified to find out playing there was the worst comedy experience of one of my favorite comedians.

I'm sorry.

I was also horrified to learn that going back in time to punch yourself in the face for playing Staunton now ties or exceeds the whole "Kill George Lucas with a shovel" option in priority.

I'm so, so sorry.

Any chance on elaborating on why you had to do the same gig twice?

Have I mentioned that I'm sorry? 'Cause I am, you know.


Posted by: Matt @ 5:31 PM on 4.08.2010
the ephemeral made permanent. not as dippy as first glance might seem. this is the nature of our age..... disposable phones; 'vegas weddings (with Elvis-impersonator preacher); _President_George_fuckin'_W._BUSH_!

a tattoo celebrating an Oswalt joke (some of the saner ramblings of the 21st century) is the least of our worries.

(no, morons, that doesn't mean you can go get a yakuza-suit of them, and blame me when you get fired from wal-mart!)

ramble on, o' witty philosopher.


Posted by: Joshua Levesque @ 6:08 AM on 4.25.2010
Being the bearer of this tattoo, I just want to thank all the other die hard Patton Oswalt fans who have posted such nice comments.

I agree on best comedy tattoo ever, but I am biased. Carlin's words is a good one too. Getting laid does tend to be overrated, but this tattoo has not hindered my ability in the slightest. It's still my favorite piece, and explaining it to strangers is my favorite part.

Also, I don't believe Mr. Oswalt has been beaten up in The United States of Tara yet, so watch that (great show). Also, Sex and Death 101, an underrated little gem. Patton's "montage" bit owns.

Thanks again everybody.


Posted by: Jon @ 10:45 PM on 5.26.2010
God damn, patton I love you. And I love ivan. So gooood.


Posted by: lostinmexico @ 12:34 AM on 5.27.2010
You know, of all the imagery portrayed in your material, I'd say this is probably his best bet for not incidentally removing himself from the gene pool. I don't think a potential mate would find humor in a tattoo of a KFC bowl, shaved scrotum or gay pink wizard. My wife doesn't anyway.



Posted by: Diane @ 12:33 PM on 11.05.2011
My husbnad and I almost drove off the highway laughing to the Sadness Bowl, and we had to try the new Bacon Sadness Bowl when it recently came out. There are girls out there with sick twisted humor.



Posted by: Casey Daniels @ 3:38 PM on 5.27.2010
I LOOOOOVVVVVE!!!


Posted by: health plans @ 12:59 PM on 1.31.2011
Wow, that is some serious commitment! The tattoo is nicely done though, all the line work is very elegant.